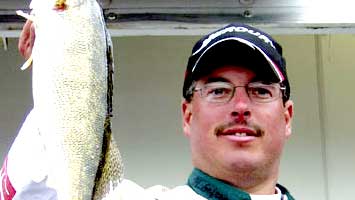 Awards & Accolades:
• 2010 AIM - 1st Place Winnibigoshish, MN
• 2010 AIM - Fourth Place in Green Bay, WI
• 2010 AIM - Fifth Place in Brimley, MI
• 2010 MWC - Fourth Place in Sandusky, OH
• 2005 Norb Wallock Memorial Education Award

• PWT Record: 37 Top 10 Finishes
• 2 Time Angler of the Year
• 2 Time Top Gun
• Gold Medal Winner ESPN Great Outdoor Games
• Sportsman of the Year
• More...
Mike Gofron from Antioch, IL, is one
of the most accomplished fishermen
in the walleye world. Mike has
fished tournaments professionally
since 1989, and currently competes
on the AIM circuit, MWC and many
other tournaments.

• View Mike Gofron's Angler Profile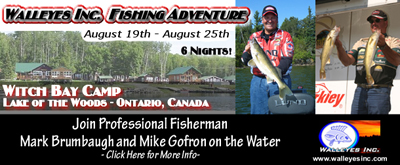 Come join Mike Gofron and the Walleyes Inc. promotional team at Witch Bay Camp for a Fishing Adventure on Lake of the Woods
Click here for more information and sign up to fish with Mike
---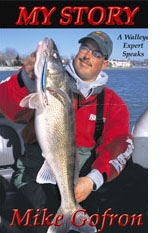 Read Mike Gofron's story: From the influential growing-up years, to first boats, to first loves, to skills learned the old-fashioned way – hard work, to winner's circles, to the peak of the walleye fishing world.
Al Lindner says, "Mike's overall performance speaks for itself. He absolutely ranks among the top of all walleye anglers. He possesses an excellent set of skills combined with great instincts."
Latest News & Media:
•2011 - Book your next trip with IRISH C CHARTERS based out of Port Clinton, Ohio and catch some Lake Erie Walleye with Capt. Pat Armour, one of the top guides on the Lake Erie, owned and operated charter service since 1975
•2011 WalleyeWorkshop.com coming soon - How-to Videos on how to rig your boat properly and hands-on fishing tips and techniques on the water.
• My Story: How Mike Gofron became involved in competitive walleye fishing. Filled with tips, tricks and techniques for novice to professionals.
• Fishingworld.com: 2005 Johnsonville Brats Angler of the year
• FLW Outdoors: Gofron's go-tos